My Mission
Mary Lundstrom is committed to helping her clients develop sound financial solutions by taking the time to get to know them and their objectives.
Whether you are concerned for your own financial needs or those of your family or business, Mary Lundstrom will work to understand your financial dreams and goals so she can help provide the right solutions and products at the right time.
---
Many people look back on their lives with regret; not for the things they have done, but for the things they have left undone. They find they are more successful than they thought they would be and saved less than they intended. They find themselves in situations that are more complex and less predictable than they anticipated.
That is where Mary Lundstrom comes in. Mary takes the time to get to know you and your preferences. She can help you anticipate and prepare for the best and worst scenarios. The relationship Mary establishes with you enables her to focus on your needs what you want for your family and what you are currently doing.
Mary Lundstrom with the Million Dollar Round Table
Mary Lundstrom is a Qualifying Member of the Million Dollar Round Table (MDRT) for the years 2004-2008 and 2010-2014. MDRT is an international association of insurance and financial services professionals.
Mary Lundstrom's Associations and Memberships
Areas of Interest
Visit these areas of Mary Lundstrom's site:
---
Steve Forbes and John Schlifske on
"Econo-ME: Ensuring Your Financial Security in the New Normal"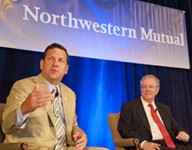 Northwestern Mutual hosted a speaker series with Steve Forbes, chairman and editor in chief of Forbes Media and John Schlifske, Northwestern Mutual chairman and CEO. Forbes and Schlifske discussed their thoughts on the economy, the markets, and how individuals and business owners can ensure financial security in the new normal. The event was part of a three day, seven-city tour and saw over 4,000 attendees in total. The Hartford event, which took place at the Hartford Marriott Downtown, had over 600 in attendance.
---
Build Your Foundation For Life

See how Northwestern Mutual permanent life insurance offers protection along with cash value that is guaranteed to grow over time.
Go Paperless

NMIS Online clients can go paperless by enrolling in electronic delivery (e-delivery) of certain account/securities documents.